Blantyre House prison 'a threat to community safety'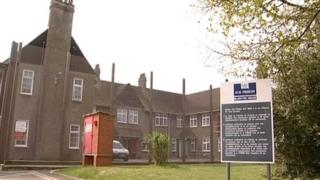 A damning report on aspects of how a Kent prison is run suggests it is compromising the safety of the local community, according to the area's MP.
Greg Clark says he is concerned that an independent report cites unprecedented problems with drugs and violence at Blantyre House, near Goudhurst.
He has written to Prisons Minister Jeremy Wright and governor James Bourke about his worries.
But the Ministry of Justice says the situation is improving at the jail.
The Independent Monitoring Board report said only about 15% of the inmates at the category C/D semi-open resettlement prison were in paid work.
It said the use of legal highs in the jail had led to bullying and intimidation, as some prisoners ran up debts to dealers within Blantyre House.
'Failing all of us'
Mr Clark, MP for Tunbridge Wells, said Blantyre House had "always been a highly successful resettlement prison".
"However, this report suggests that this positive contribution to prisoner rehabilitation and the safety of the local community has been seriously compromised.
"The increase in difficult prisoners has had implications for security both inside and outside the prison.
"Seven men went unlawfully at large during the year, and five committed offences whilst on release on temporary licence."
He added: "The picture this presents of the prison is alarming - this situation requires an urgent response."
Frances Crook from the Howard League for Penal Reform said: "I would be very worried if I was a member of the public, either living near [the prison] or living near the people who are going to be coming out of there, because that prison is failing all of us and is probably making people more dangerous."
The ministry said assault and abscond levels were low and the number of inmates doing "constructive work" had increased in recent months.