Blantyre House prison has 'drugs and bullying problem'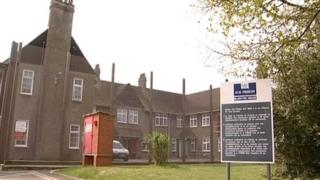 A Kent prison has an "unprecedented" problem with drugs, bullying and violence, a report by the Independent Monitoring Board (IMB) has found.
The annual report on Blantyre House (BH) near Goudhurst said there was insufficient work for prisoners who were left to "mill about".
The IMB said the prison was trying to manage a "difficult population".
The Ministry of Justice said the number of offenders doing "constructive work" was increasing.
Blantyre House is a category C/D semi-open resettlement prison with about 15% of the prison population being in paid work.
The report said: "There are high numbers of men in the prison with nothing to do who mill about the house or sleep the day away.
"This is unsatisfactory, more work needs to be found and the work-shy need to be removed back to closed conditions to allow others to benefit from the BH regime."
'Serious violence'
The monitoring board said there had been a complete change of management over the year to 30 June 2013 covered by the report.
"There have been times when the IMB has been deeply concerned about the prison," the board said.
It described staff morale as being at "rock bottom", although some staff were highly experienced and dedicated.
The report highlighted "serious violence" at the prison for the first time, with two non-fatal stabbings, a sex assault and a suicide, saying there was cause for "immense concern".
"The background to the violence is the change in population and the drug culture which has come to dominate some of the men's lives," the report said.
The use of legal highs in the prison had led to bullying and intimidation, with some prisoners describing the accommodation blocks as "scary" at times.
'Not being complacent'
The IMB found those prisoners who were willing to co-operate with the prison's regime and work towards their resettlement "achieved good results."
In a statement, the Ministry of Justice said: "Assault and abscond levels at HMP Blantyre House are among the lowest in the prison estate, and the number of offenders spending their sentences doing constructive work has increased in recent months.
"This will help them find a job on release and reduce the chances of them reoffending.
"However, we are not complacent and will take action against anyone who threatens the safety and security of our prisons.
"We use a range of measures to keep illicit items out of prisons and will sanction anyone who is violent, with serious cases referred to the police for prosecution."