Kent County Council to close 12 children's centres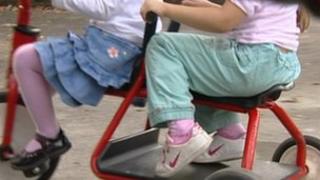 Plans to close 12 children's centres in Kent have been announced following a public consultation.
Kent County Council (KCC) said it had received more than 6,000 responses to its plans for the county's centres.
A spokesman said the service would be reorganised into 17 "hubs" linked to 43 full-time and 25 part-time sites.
He said that 11 sites earmarked for closure before the consultation would not be shut, though six would have reduced opening hours.
He added that two sites in Dover would be merged and a further 13 centres would have reduced hours.
Children's centres provide play facilities and a meeting place for parents and youngsters.
'Cutting services'
Councillor Jenny Whittle said: "This consultation has never been about reducing services and these will continue to be delivered in alternative buildings in areas where a centre closes.
"Centres which are running part-time should be hosting events out-of-hours to bring in much needed income."
Council services which use the centres due to close will be relocated to other venues, KCC said.
Ms Whittle, who is in charge of Specialist Children's Services, said: "We have a dwindling resource and we have got to use that on protecting services.
"We will continue to to deliver services in alternative community venues."
Jill Rutter, head of research at the Family and Childcare Trust, said: "Parents with small children are not the most mobile of groups and they have got to be able to reach services.
"By closing buildings or cutting services, and Kent is cutting services, you prevent families from reaching them.
"Kent's spending on children's centres is much less than the national average," she said.
"It's £62 per under-five in Kent [and] the national average is £95."
The decision on the children's centre closures will go to a meeting of the social care and public health cabinet committee on 5 December.