Maidstone park and ride 'needed to ease traffic'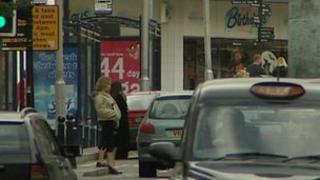 People who live and work in Kent's county town are calling for action to reduce traffic and improve air quality.
New pressure group South Maidstone Action for Roads and Transport (Smart) said Maidstone needed a relief road and a park-and-ride scheme.
"There are more and more volumes of traffic south of Maidstone and quality of life is decreasing," said chairman Sean Carter.
Maidstone Borough Council said it had bid for funding to improve the roads.
Mr Carter said house building over the past 50 years had made traffic congestion worse, particularly at hot spots such as the Wheatsheaf junction where the A229 Hastings Road meets the A274 Headcorn Road.
'Traffic unbelievable'
Lib Dem prospective parliamentary candidate for Maidstone Jasper Gerrard said the council's proposals to build 15,000 new homes meant practical solutions had to be found.
"Maidstone is absolutely choking with pollution," he said.
"The council has just produced its own report admitting that pollution levels are completely unacceptable.
"The traffic here is unbelievable. It is just permanently gridlocked."
Leader of the Conservative-run council, Christopher Garland, said air monitoring carried out this year showed a significant downward trend in nitrogen dioxide levels.
"We are working with local businesses, charities and schools to encourage people to either walk or use lower emission vehicles," he said.
"As a nation we are addicted to the car. There are consequences and air pollution is one of those."
He said there was a "massive push" by the government for new housing, which had to be included in the Maidstone local plan.
But he said there would be money from developers to improve infrastructure.
He added the council had applied to Kent Local Enterprise Partnership for funding for a new park-and-ride scheme and improvements to the Maidstone gyratory system.