Medway mental health inpatient unit to close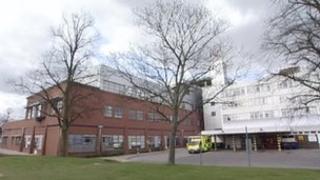 Plans to close acute mental health beds at Medway Maritime Hospital have been approved by the health secretary.
The Gillingham hospital's A Block will shut, with patients being sent to Little Brook Hospital, Dartford or Priority House, Maidstone.
Kent and Medway NHS and Social Care Partnership Trust (KMPT) said it would result in 14 more acute beds across three specialist centres.
Councillors who opposed the closure said they were horrified.
The decision, which leaves Medway with no acute mental health provision, was referred to Health Secretary Jeremy Hunt by Medway councillors in August.
'Travel further'
Conservative Wendy Purdy, the lead councillor for Medway on Kent and Medway health overview and scrutiny committee, said she was horrified and very concerned.
"There just isn't any support for carers when they can't get a bed for somebody that they desperately can't handle or cope with," she said.
Brian Clark, whose daughter has been an inpatient, said families would have to travel much further to visit loved ones.
"If the people in Sheppey have to go to Dartford - and there's a good chance they will because there's never any vacancies at Maidstone - you've got to be talking of a round trip of 70 miles a day," he said.
"It's not acceptable."
'Modern accommodation'
KMPT said the closure of A Block would increase the number of acute beds in Dartford, Maidstone and Canterbury to 174.
"We are very pleased to have the backing of the health secretary for this plan," said chief executive Angela McNab.
"This will ensure that everyone who needs inpatient mental health crisis care in Kent and Medway receives it in in modern, fit-for-purpose accommodation.
"We have been strengthening community services for people in mental health crisis and are completing recruitment to new posts in these teams.
"We have drawn up a transport plan for service users and carers affected by the move and will ensure they can access volunteer transport."