Kent neuro-rehab staff under investigation over patient care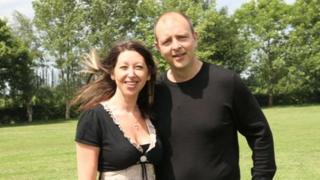 Four members of medical staff are under investigation over alleged failings at an NHS unit in Sevenoaks involving a patient with serious brain injuries.
Secretly-filmed footage passed to the BBC by the family of Grant Clarke, 43, showed the poor care he received at the West Kent Neuro-rehabilitation Unit.
He was admitted to the unit after a brain haemorrhage left him disabled.
The Kent and Medway NHS and Social Care Partnership Trust has apologised to his family for the failings in his care.
'Concerns ignored'
In a statement on Wednesday, the trust said it could not comment on any specific investigations as it had not been informed what stage any such proceedings had reached.
"We are aware the family have made referrals to the Nursing and Midwifery Council (NMC).
"We know that the NMC will be following their usual procedures, and wherever the NMC has approached the trust requesting information we have co-operated fully."
Mr Clarke, from Sevenoaks, suffered a massive brain haemorrhage last year that left him severely paralysed.
He spent 12 weeks in hospital during which he underwent two operations, before being transferred to the unit in Sevenoaks.
'Left alone'
His wife Binny said she became concerned about his care at the unit within the first two weeks.
She installed a secret camera in his room three months later after her concerns "fell on deaf ears".
"I had bought up many concerns that he smelt, that he wasn't washed, that his teeth weren't brushed," she said.
"He was left in urine, left in faeces.
"He wasn't socially integrated with other patients... he was just left in his room."
The footage, shown on the BBC's Newsnight programme, captured incidents which include one healthcare worker cleaning a feeding and medicine tube with a pen nib, and another giving Mr Clarke drinks of water five times over two nights despite him being nil-by-mouth.
His call bell was also removed three times in 10 days.
In a statement to Newsnight, the trust said: "We remain appalled by what happened."
It continued: "We subsequently created a robust action plan to address all concerns," and added that compulsory, specialist training for all staff had now been introduced.
Mr Clarke is now in another rehabilitation unit, where he is making good progress, his wife said.