Thanet District Council 'surrounded by secrecy and corruption'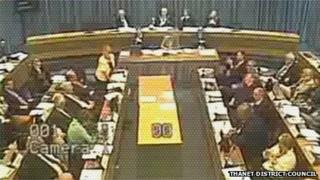 There is a suspicion of "secrecy and corruption" around a Kent council, according to an independent report.
The standards committee at Thanet District Council looked at relations between councillors and the public.
Its report highlighted "disrespectful comments" and "personal threats" made at public meetings and said the council appeared "dysfunctional". The council said it had a "robust code of conduct".
The committee was set up to "promote and maintain" standards of conduct.
At one of the meetings of the standards committee, which is made up of members of the public, concern was raised about the conduct of councillors and the perception of that conduct by the public.
'Many personal attacks'
The report, commissioned following a BBC South East investigation into the conduct of councillors, said a member of the public had been ejected from a full meeting of the council following a decision aimed at controlling how images of council meetings were shared.
"Recent comments made by some councillors towards members of the public in public meetings have been less than respectful and have led, on occasion, to the making of personal threats," it said.
The committee said: "There is a local suspicion of secrecy, corruption and distance between the council as it is perceived in the [council] offices in Cecil Square, the reality of people's lives and the needs of the district."
The perception of the council had been adversely affected by the jailing of the former leader Sandy Ezekiel in March for misconduct in public office, the committee members said.
They said they had witnessed "many personal attacks" between members at public meetings, and those in the public gallery felt the councillors were not serving the public.
"Attendance at council meetings is seen by some to be a form of entertainment," the report said.
'Squabbles affect services'
The committee members reported their overall impression was of a council whose members distrusted each other and the public.
The report said: "The council has the appearance of a dysfunctional organisation whose behaviour and internal squabbles adversely affect the delivery of services."
A statement from Thanet District Council said the report would be considered at a meeting of the standards committee on Thursday.
It said: "As the principle role of the standards committee is to provide advice and guidance to the council on ethical conduct matters, it would be inappropriate to comment on the specifics of the report before the committee has the chance to debate this."
The local authority said it had a robust code of conduct which set out high standards of ethical conduct expected of councillors.
It added: "All councillors agree to comply with this code when they accept office."