Canterbury late night alcohol levy plans considered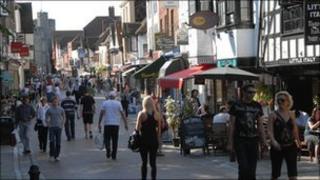 A levy on alcohol sold between midnight and 06:30 could be introduced in Canterbury to help tackle problem drinking, according to councillors.
The levy, ranging from £299 to £4,440 a year, would apply to pubs, late-night supermarkets and off-licences.
Councils can choose whether or not to adopt it and have a discretion to make some businesses exempt.
Barton councillor Paula Vickers said revellers were making noise and urinating in doorways.
She said: "There's lots of shouting and screaming in the early hours between two and three o'clock, urinating in doorways, just general noise which unfortunately, because of the nature of Canterbury, you get a canyon effect and the noise is all accentuated."
The late-night levy, which would apply to the whole council area and not to specific premises, enables licensing councils to get money towards policing the night-time economy from alcohol suppliers who open late.
'Fantastic nightlife'
The Home Office says councils can choose whether or not to exercise the power, and have the power to offer exemptions to businesses, including premises with overnight accommodation, theatres, amateur sports clubs, "business improvement districts" and country village pubs.
Police would get at least 70% of the net levy revenue, and the council would keep up to 30% for non-policing activities.
Those who would have to pay the levy, which is set nationally by government and linked to business rates, would include pubs, bars, late-night supermarkets and off-licences.
A similar scheme in Newcastle has helped fund extra CCTV and street cleaning.
The Canterbury City Partnership is a membership organisation for businesses in the city centre.
Bob Jones, its executive chairman, said: "The fashion is for things to go on a little later these days than perhaps it would have done before.
"But we don't think we have serious problems in Canterbury, there obviously are issues and if you're a resident of the city and it affects you, then it's very important that that is dealt with appropriately.
"But we think that Canterbury has a fantastic nightlife."
The plans are due to be discussed at a council meeting later.