Gravesend station footbridge installation causes disruption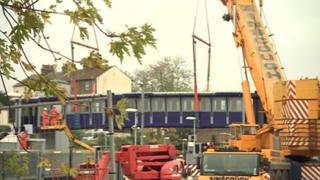 Road and rail travellers are facing disruption as a new footbridge is installed at a Kent station.
The structure, the first new footbridge at Gravesend station since the 1800s, is part of a £19m redevelopment.
No trains are running through the station for three Sundays or for 15 days over Christmas and New Year. Road traffic is also being delayed.
"It's a difficult job to get something so large into the station," said Network Rail route boss Fiona Taylor.
"We are sorry for any disruption this may cause."
Trains between Northfleet and Higham are being replaced by buses and traffic during installation of the bridge.
The old bridge will remain in place for two weeks until it is removed on 1 December.
Traffic in Clive Road and Darnley Road is being affected by temporary closures.