Bernard Randall faces Uganda trial over stolen gay sex images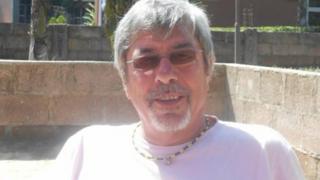 A retired British man is facing trial in Uganda after images of him having sex with another man were published in a newspaper.
Bernard Randall, originally from Faversham, Kent, denied a trafficking obscene publications charge last month.
He was arrested after thieves stole a laptop from his house. Stills from a video on it then appeared in a tabloid.
The 65-year-old is due to appear in court in the country, where homosexual acts are illegal, on Monday.
The AFP news agency said Mr Randall was charged along with a Ugandan man, who has denied a more serious charge of carrying out "acts of gross indecency" which could see him jailed for up to seven years if found guilty.
Mr Randall, who faces a possible two year prison sentence, told BBC South East that he moved to Uganda earlier this year and believed he was targeted by thieves who knew he was gay.
'Not flaunting anything'
He said on finding the videos, the thieves tried to blackmail him and went to the newspaper when that attempt failed.
He said that after he was arrested, he had to endure a number of "very personal and humiliating" medical examinations.
Mr Randall originally faced charges of being involved in an "unnatural act", which he said was "very frightening", but is now facing lesser charges relating to the videos.
He said that he and the Ugandan man were "not going around flaunting anything".
"Is there anything wrong with two people sharing a house, walking down the street holding hands?"
Actor Stephen Fry and human rights campaigner Peter Tatchell have tweeted their support for Mr Randall.
In 2011, gay rights activist David Kato was beaten to death in Uganda, but police denied this was related to his sexuality.
The Ugandan parliament is considering legislation aimed at increasing penalties for homosexual acts.