MoD 'failed' soldier Dean Griffiths shot dead on range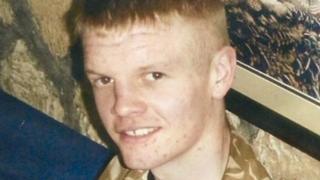 The Ministry of Defence (MoD) failed in its duty to protect a soldier shot dead during a training exercise on a firing range, his family has said.
Fusilier Dean Griffiths, 21, of First Battalion the Royal Welsh, died at Lydd Range, Kent in September 2011.
An inquest at Folkestone Coroner's Court was told a target was wrongly placed against a wooden wall but there was no evidence it was malicious.
The MoD said it was doing all it could to prevent any recurrence.
Fusilier Griffiths, from Market Drayton, Shropshire, whose partner was pregnant at the time of his death, was serving with the Chester-based battalion as it prepared to go to Afghanistan.
Two shots
The inquest heard he was taking part in a live firing exercise when one of his assault team colleagues entered a compound and fired two shots at the target.
One of the shots went through the target and the wooden wall and hit Fusilier Griffiths, who was on the other side.
The bullet severed an artery and the soldier died at the scene.
After the jury returned a narrative verdict, his family, who are suing the MoD for negligence, said his death on a training exercise on home shores was unfathomable.
"Dean served his country valiantly in Afghanistan, and we are incredibly proud of him," they said in a statement.
"Our lives have changed forever and we only wish that he could have lived to see his little boy grow up.
"We have always believed that the right safety procedures were not in place to avoid the dangers of live firing exercises, and that the MoD failed in its duty to protect its troops.
"Following Dean's death, we are reassured to have heard that the MoD has changed its procedures, and trust that this will ensure that no more soldiers' lives are endangered unnecessarily in this way during a training exercise.
"The MoD has confirmed that it will not be disputing liability and we will now be pursuing legal action for negligence."
The MoD said that after Fusilier Griffiths' death the Land Accident Prevention and Investigation Team examined the circumstances and made a number of recommendations.
"We have accepted all these recommendations, which are now being implemented to ensure we do all we can to prevent any recurrence."
The Lydd firing range, on the Romney Marsh, has been used for military training for more than 150 years.
Another soldier, guardsman Iain Wright, who served with the First Battalion Grenadier Guards, died from a single bullet wound to the head during an exercise there in 2006.