Virgin Mary statue stolen from Remembrance Day display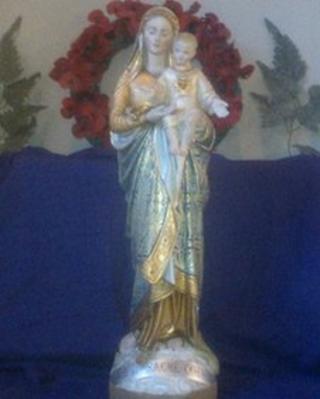 A statue of the Virgin Mary with baby Jesus has been stolen from a Remembrance Day display in a church.
The statue, valued at about £600, was taken from the Church of Our Lady, Help of Christians in Guildhall Street, Folkestone, Kent on Sunday.
"The theft is a huge mark of disrespect," said PC Michael Kendall.
The statue, which shows Mary wearing gold, blue and green robes, was taken from a grotto inside the church between 13:15 and 13:25 GMT.
An Easter candle was also taken from the baptismal area of the church and later smashed on the wall outside.
Mr Kendall said: "I am keen to speak with three teenagers, reportedly two boys and a girl, who were seen outside the church."