Tenterden shop fire owners undefeated by fire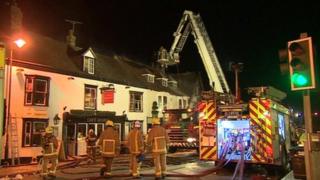 The owners of one of the oldest-family run businesses in Kent have said a fire which gutted one of their shops will not stop them from reopening.
The blaze at Webbs kitchen store in Tenterden High Street broke out in the roof space of the timber-framed building on Tuesday evening.
The cause is under investigation, but it is not being treated as arson.
Manager Carol Webb said a "pop-up kitchen shop" would be open for business "in about a week's time".
The shops either side of the store, Cafe Rouge and Waterstones, were also damaged in the blaze. No-one was injured.
'Nothing salvageable'
The Webb family have two other premises in the High Street and Ms Webb said stock at the front of its ironmongery shop would be moved further back leaving the front half for kitchen items.
Owner Nigel Webb, whose grandfather founded the business in 1910, said there was "nothing salvageable" from the fire, which had left the 500-year-old building looking "like a bomb site".
"It's a beautiful old building, hopefully the structure will survive," he said.
Fire ripped through the shop as Bonfire Night celebrations got under way on 5 November.
Roger Norris, landlord of the nearby White Lion pub, which has been undergoing restoration, said one of his builders working on the roof saw the fire start.
"He saw the sparks... he thought it was a firework, looked back a minute later and saw all the flames, and it caught very quickly.
"It's taken the heart out of the high street," Mr Norris said.
The Webb family plan to reopen the kitchen shop next year.