Kent County Council budget set to bring job losses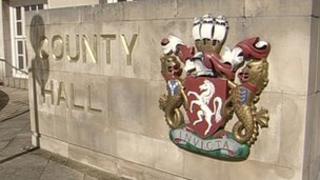 Budget plans unveiled for Kent have included the first council tax increase for four years, cuts to services and what could be hundreds of job losses.
Kent County Council said it needed to save £273m over the next three years, including making cuts on staff costs of £24.8m over that period.
Council leader Paul Carter has not said how many jobs could go as a result of the cuts.
A public consultation over the budget plans has begun.
'Certainly fewer staff'
BBC Radio Kent calculated the £24.8m staff savings figure was 7.5% of the county council's total current salary spend of £329.34m. The authority currently employs 8,874 staff (full-time equivalent) - a 7.5% cut in staff numbers would see an estimated 665 jobs go.
Mr Carter said the council had reduced full-time staff by 1,500 in the past three years.
He said: "I'm not putting any number on it at the moment.
"One thing I'm certain about is that there will be less full-time equivalent staff working for KCC into the future."
He said changes would depend on the council's work to explore who was best able to deliver services.
Mr Carter added: "If others are delivering it, they may not be working for KCC, they'll be working for a new employer, delivering similar but hopefully good, or as good as, services."
'Services under microscope'
David Lloyd, from Unison, said: "We're not clear on who is losing jobs at the moment. I think we are aware there is consultation going on around senior staff and directors and directorates are being looked at.
"If they got rid of all the staff in KCC we're being told that is only a quarter of the budget."
He said he thought about five directors might lose their jobs but added: "The problem is they will then cascade work down to people who are already overworked."
Mr Carter said the government had imposed severe cuts as it tackled the national deficit and Kent County Council had to aim for "still greater efficiency".
He said a full review of how it delivered services had been launched internally "with all areas of business under the microscope" to see whether they gave value for money.
Other savings set out for the next three years included £2.5m on children's centres, £6.6m on home to school transport and £107m on redesigning services.
Council tax would rise by 1.99% which would see Band C bills increase by about £18 per year.