Kent NSL patient transport service faces possible strike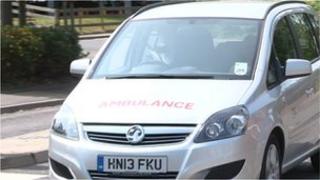 Strike action is being considered in a row over new shift patterns proposed by a non-emergency patient transport company in Kent and Medway.
NSL Care Services took over from South East Coast Ambulance Service in July and has been criticised over delays.
The GMB union said staff had been given "around five days" notice of new rotas.
Alastair Cooper, managing director of NSL said: "We did the full consultation required and we worked with all the unions."
He said shift patterns needed to fit around patients' needs.
Notice period
"It's been a difficult four months. We are making progress and we have let a few patients down but we're making headway now.
"We followed the process to the letter and have given fair warning.
"I would be very disappointed if there was industrial action."
Frank Macklin from the GMB said: "Our members always knew there was going to be a change to their rota system and they have never had a problem with that.
"Our members are used to having notice period of 90 days, and what they've had is a notice period of around about five working days."
He said in an "indicative vote" 94% of members had voted for "industrial action up to and including a withdrawal of labour".