Collapsed marathon runner Ricki Savage was 'extremely fit'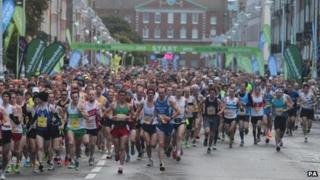 A man who died after collapsing at the finish line of a marathon in Ireland had only taken up running within the last year, one of his friends has said.
Ricki Savage, 27, from Ramsgate, Kent, had a suspected heart attack at the Airtricity Dublin Marathon last Monday.
David Lehmann, who had known him since childhood, said he was "happy-go-lucky" and extremely fit.
Mr Savage had been running for the British Heart Foundation, and more than £8,000 has been raised in his memory.
Mr Lehmann said: "It wasn't the first time he'd gone for a long run - granted it was his first marathon attempt - but he was an extremely fit lad.
"I'm sure he knew what he was doing... he'd been training for a number of months."
Mr Savage had been one of more than 14,000 runners taking part in the marathon.