Bethany Freeman: Edenbridge pays tribute to storm victim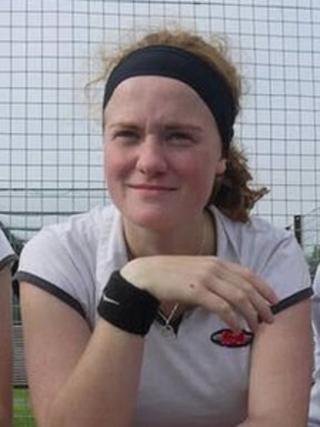 Tributes have been paid to a teenage girl who was killed when a tree fell on a caravan as she slept during severe gales in Kent.
Bethany Freeman, 17, died when the tree came down in Hever, near Edenbridge.
Edenbridge Hockey Club, where she was a member, held a minute's silence. Edenbridge Bonfire Society also asked the Kent town to join in a moment of silence before its fireworks display.
Bethany's brother, Guthrie Freeman, has said it was a freak accident.
He said: "We were all very close as a family and it's devastating."
Mr Freeman added: "She was a fantastic sportswoman and always had time for everyone, no matter who they were."
'Heart of the crowd'
He said his sister played at county level for hockey, netball and cricket, was in the first teams at school and was captain of its first XI hockey team.
She also played with several sports clubs around Kent, coaching younger girls at school and at various clubs outside school.
Bethany was a Gold Olympic Young Ambassador in 2012.
He said: "The family are absolutely saddened by the whole affair and we can't believe it has happened. It was just a freak accident.
"It is a massive loss to all that knew her. We all loved her.
"She was incredibly popular and loveable - the heart of the crowd and an absolute motivator for everyone. She loved and listened to everyone and just made everyone feel happy around her.
"She is and was a great friend for everyone and the best sister I could have asked for."
Black armbands
On Saturday, Edenbridge Hockey Club held a one-minute silence followed by a minute of applause at their home game with Maidstone Hockey Club, in tribute to Bethany.
The players wore black armbands and have retired her jersey number.
Edenbridge Bonfire Society, which was holding its procession and fireworks on Saturday evening, said: "We hope that everyone in the town will join us in a short moment of silence for before we commence the firework display on Saturday.
"Our heartfelt sympathy and best wishes go out to Bethany's family, friends, classmates, teachers and teammates."
Bethany had been sleeping in the caravan in Lydens Lane while her family home next door was undergoing renovations.
Friends of Bethany, who was a sixth-form pupil at Tunbridge Wells Grammar School, have set up a tribute page on Facebook which has received nearly 9,000 followers.