TS Eliot bust presented to University of Kent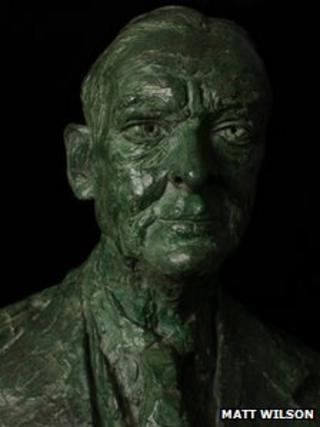 A bust of TS Eliot by the pioneering sculptor Jacob Epstein has been presented to the University of Kent.
Valerie Eliot, the poet's widow, bequeathed the artwork to the university in her will after she died in November last year
A spokesman from the university said the bust was the first of a limited edition of nine cast from its mould.
It will be displayed alongside a portrait of the artist by the painter Patrick Heron.
The sculpture, modelled in clay and cast in bronze, is estimated to be worth about £200,000.
A plaster version of the work by Epstein, one of the 20th Century's leading sculptors, was recently exhibited at the National Portrait Gallery.
Kent University was opened in 1965, the same year TS Eliot died. It named its first college after the poet.
Stephen Burke, master of Eliot College, said Mrs Eliot had been a "long-time friend" of the university.
"I am delighted that Valerie chose to remember us in her will by making such a generous bequest," he said.
"I know that this bust meant a lot to TS and Valerie Eliot, and I will ensure that it is displayed for the enjoyment of our community, and as a most fitting memorial to them."
Judith Hooper and Debbie Whitfield, representatives of the Eliot estate, said: "Valerie had considered giving it during her lifetime but could not bear to be parted from the likeness of her beloved Tom, so the college would have to wait.
"She would be pleased to know that the bust has arrived at its new home where it will be cherished by staff and students as it was by her."
Mrs Eliot guarded her late husband's literary legacy following his death in 1965.
She also allowed Andrew Lloyd Webber musical Cats to be based on TS Eliot's whimsical verses, Old Possum's Book of Practical Cats.