Tonbridge and Malling candidate chosen in open primary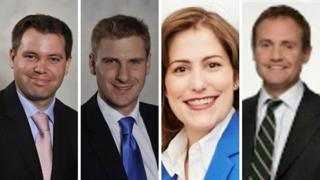 It is a long way from the US presidential elections to the streets of Tonbridge, but voters in the Kent constituency of Tonbridge and Malling are being given the chance to choose their next Conservative candidate in an US-style open primary contest.
The system means that instead of having a candidate selected for them voters, who don't have to be affiliated to a political party, get a choice.
There have only been a handful in the UK.
The former GP and now Conservative MP for Totnes, Sarah Wollaston, was chosen in an open primary. It has made her a strong voice in Parliament - not scared to rebel against the government on issues her constituents feel strongly about.
'Brave move'
Now the MP for Tonbridge and Malling, Sir John Stanley, is retiring - having held the post since 1974 - constituents in Kent are being given the opportunity to take part in an open primary for the first time.
The Conservative blogger Iain Dale, who is hosting the hustings, regards it as a brave move.
He says other parties have looked at the system but have not adopted it as there is always the risk, as happens in the US, that rival voters could pack the hall in a bid to try and get the least popular candidate picked.
Mr Dale says that is unlikely and believes open primaries are good for democracy.
So who are the four hopefuls vying to be the next Conservative candidate for Tonbridge and Malling?
First up is Kent born and bred Ed Argar. He has been a councillor in Westminster for seven years and works in corporate affairs. He is pledging to promote business to deliver jobs and growth.
Victoria Atkins was born in London but lives in Gloucestershire where she stood as a candidate for Police and Crime Commissioner. She works as a barrister and says she wants to bring "real-life experience" to politics.
Chris Philip, an entrepreneur, went to school in Orpington and stood in Hampstead and Kilburn at the 2010 general election.
Tom Tugendhat grew up near Ashford and served in the Army - seeing action in both Afghanistan and Iraq. He is a strategy consultant and says he wants to bring his skills and experience to fight for the constituents of Tonbridge & Malling.
But some critics, such as the University of Kent lecturer Tim Luckhurst, say primaries are not really any more democratic than the traditional selection process.
He says it leads to candidates being chosen by a minuscule minority of the electorate which consists of people whose choice of social activity identifies them as implausible barometers of local opinion.
Whoever the public choose at the hustings in Tonbridge on Saturday it looks likely they will be the next MP for the area.
They stand to inherit a majority of more than 18,000 from Sir John Stanley, making this a very safe Conservative seat.
UPDATE SATURDAY 2 NOVEMBER
The constituents of Tonbridge and Malling have spoken - well, a few hundred of them have.
In the first ever open primary in Kent, the former military assistant to the Chief of the Defence Staff Tom Tugendhat has been selected as the Tory candidate for Tonbridge and Malling.
There was not the turnout or excitement as in Totnes in Devon when Dr Sarah Wollaston was chosen with almost 25% of registered voters turning out.
The open primary was part of the Tories' attempts to involve more ordinary people in the selection process.
As Professor Tim Luckhurst put it - it is still a choice of four Conservative candidates - there is no wild card.
I'm not sure how much open primaries do to encourage people to engage with the electoral process but the people of Tonbridge have chosen their candidate - and the man most likely to be their next MP at Westminster.