Swale council's Alan and Jean Willicombe move 150 miles from ward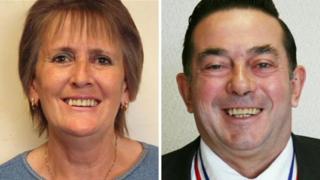 The former mayor and mayoress of Swale have been urged to resign as Kent councillors after moving more than 150 miles from the ward they represent.
Alan and Jean Willicombe plan to continue representing the Woodstock ward of Sittingbourne from their home in Gedney Drove End, Lincolnshire.
The couple said they would communicate via telephone, email and letter, and attend as many meetings as possible.
Opposition councillors have said they will be out of touch with constituents.
'More for your money'
Labour councillor Roger Truelove said: "People who have real issues want you to visit them straight away. You can't do that from Lincolnshire."
Mr and Mrs Willicombe have served 24 years on the council between them and are entitled to claim annual allowances of more than £3,400 each.
They moved to Lincolnshire a week ago after their house in Kent "sold quicker than expected".
"We moved up here because you get much more for your money, it really is as simple as that," Mr Willicombe said.
"It also gives us a chance to see my sister who lives in Norfolk, and we now have the room to put my elderly mother up, something we could not do before."
He said they would not be claiming travel expenses when they went back to Kent for official matters.
The couple have arranged for two other councillors - Sylvia Bennett and Derek Conway - to attend to issues in their absence.
Mr Willicombe added that the ward was being split into three in 2015 due to boundary changes.
"I have not resigned because I can still be an effective councillor and it will save the expense of holding a by-election for a ward that will not exist in a year's time."
Councillor Andrew Bowles, the Conservative leader of Swale Borough Council, said while it was "not a perfect situation" he believed the couple could still be effective councillors.