GP Babatunde Oshinusi cleared of sex assaults on patients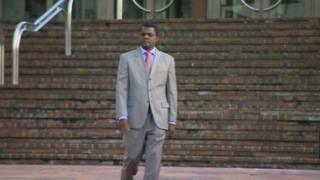 A GP has been cleared of sexually assaulting patients at the medical centre in Kent where he worked.
Babatunde Oshinusi, 43, told Maistone Crown Court he acted correctly at all times at the practice in Strood.
The doctor denied 15 charges of assault between 2007 and 2010 at St Mary's Medical Centre in Vicarage Road.
The court heard the alleged victims went to see him for various complaints including digestive problems and abdominal pains.
The prosecution told the jury five of the women who made complaints against Dr Oshinusi were in their 30s and 40s and one was an 81-year-old woman who consulted him about a bladder infection.
It was claimed he carried out intimate examinations which the prosecution said were unnecessary, gratuitous or inappropriate or, in some cases, all three.
'Always offered chaperone'
Two of the victims described painful and humiliating examinations and one said she had been yelping in pain.
Another patient said she was in agony during an examination which seemed to go on forever and left her feeling embarrassed, humiliated and bleeding.
Dr Oshinusi, of Tunbury Avenue, Chatham, told the court he always offered a chaperone and denied examining patients for his own sexual gratification.
NHS England (Kent and Medway) said Oshinusi was suspended by NHS Medway on 27 July 2010 and is also currently suspended from the General Medical Council (GMC) register, so cannot currently work as a doctor.
Dr James Thallon Medical Director for NHS England (Kent and Medway) said: "The case has been heard by a jury who have heard all of the evidence and found Dr Oshinusi not guilty.
"I can confirm that he remains suspended and that his case will be considered by the GMC."