Gravesend taxi driver attacked by passengers 'feared death'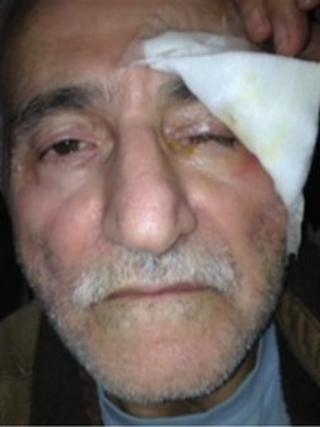 A taxi driver has said he thought he was "finished" when two passengers who refused to pay a £6 fare attacked him.
Ali Rassouli, 63, was threatened with a sharp object and sprayed in the face with a toxic substance in the altercation on 18 October.
When he fled his cab, the men chased him, kicking and punching him before making off with his mobile phone and car keys.
Police have released an e-fit of one of the attackers.
A Kent Police spokesman said the two men had asked to be taken to Denton.
He said that when they got to Shamrock Road, Gravesend just after midnight on 18 October, they asked Mr Rassouli to stop.
The 63-year-old told them the fare and one of them threatened him with what police said was believed to be a pair of scissors.
The spokesman said one had then shouted "give me your money" and when Mr Rassouli turned round, he was sprayed in the eye.
The 63-year-old then managed to get out of the cab and knock on nearby doors but the men came after him, punching and kicking him.
The spokesman said they only stopped when the taxi driver gave them his phone.
Mr Rassouli said he was "really was thinking that I'm going to be finished".
"It came to my mind that they had a knife, they were going to stab me, give me a very bad injury, maybe death.
"The fear was so strong that it made me faint."
The police spokesman said the men had been described as white, aged between 20 and 25, and about 5ft 6in (1.70m) tall.
He said both men had been wearing blue hooded tops.
'Very concerned'
Mr Rassouli said he thought more needed to be done by the authorities to create a better communications network, especially for independent drivers working at night.
"Technology nowadays is very, very advanced and it is really easy to set up some sort of panic button," he said.
CCTV was introduced in taxis in the area following the murder of Gravesend taxi driver Gian Chand Bajar, who was run over and killed with his own cab by a drunk passenger in 2007.
Luke Aujila, of Dorchester Road, Gravesend, was later jailed for a minimum of 20 years for killing the 71-year-old.
John Burden, the leader of Gravesham Borough Council, said he was "very concerned" about the attack on Mr Rassouli.
He appealed to anyone who knew the identity of the attackers to call the police.
He said the authority had approached drivers three years ago about putting plastic screens in their cars at a discounted price, an offer which had been declined.
"We can only do what we can but they need to help themselves," he said.
He added that the council would back a panic button system if drivers wanted it.