Chatham remembrance day parade policing issue resolved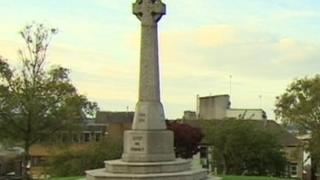 A Remembrance Day parade that was at risk of being cancelled because of a lack of police officers will now go ahead after the issue was resolved.
About 500 people, including war veterans, scouts and guides, will march through Chatham in Kent on 11 November, as they have in previous years.
Police had suggested alterations to the route in order to prevent the use of additional officers and marshals.
The parade will now be marshalled by local volunteers supported by police.
'Fewer powers'
It will follow a route to the war memorial in Victoria Gardens via the High Street, Waterfront Way and the station.
Medway councillor Vince Maple, who was involved in discussions about the event, said the community had worked with the police "to find the right outcome".
Kent Police had said new laws meant they had far fewer powers to regulate traffic for the parade and were therefore no longer able to automatically provide officers to close roads.
The force said the onus was now on organisers to ensure security and traffic arrangements.