Bethany Freeman: 'Devastation' at storm victim's death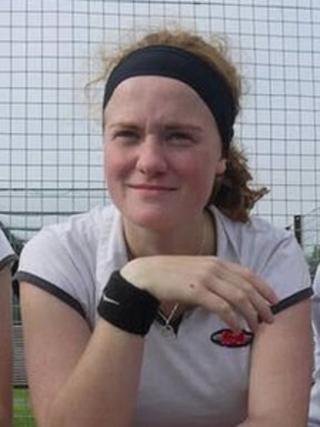 The mother of a teenage girl who was killed when a tree fell on a caravan as she slept inside has spoken of her "devastation".
Bethany Freeman, 17, died when the tree came down in Lydens Lane, Hever, Kent, during severe gales on Monday morning.
She had been sleeping in the caravan while her family's home next door was undergoing renovations.
Her mother Tess Pierce said: "We are all absolutely devastated at the loss of my daughter."
"I would like to thank the emergency services for their tremendous efforts in attempting to save her."
A statement on the website of Tunbridge Wells Grammar School, where Bethany was a sixth form pupil, said staff and pupils were "profoundly shocked and saddened at the news of her tragic death".
Friends have set up a tribute page on Facebook that has already received nearly 7,000 followers.
'Not forgotten'
The school said she was an "outstanding sportswoman" and represented hockey, cricket and netball clubs at local and county level.
Edenbridge Hockey Club issued a statement, which said: "Our club has lost a talented, young player and we have all been left in total shock.
"Beth played with us for a couple of seasons and was a strong, confident and passionate player. She generally had the position of sweeper, covering the whole pitch, defending fearlessly but also scoring some amazing goals."
It added: "We will really miss Beth on the pitch but she will not be forgotten.
"Our thoughts are with her parents and brothers at this very difficult time."
Duncan White, chairman of Tunbridge Wells Borderers Cricket Club, said: "She was a popular and enthusiastic young woman who clearly loved her sport and we at Borderers Cricket Club were lucky to have had her as part of our family.
"Her short time with the club will never be forgotten."