New Kent 11-plus makes tutoring 'less effective'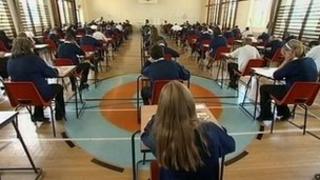 A new 11-plus test is to be introduced in Kent to make it more difficult for families to coach their children to pass.
Kent County Council (KCC) said that from September 2014 the test would be a "more sophisticated" assessment.
It follows concerns about wealthier families paying for coaching, giving their children a perceived better chance of getting into grammar school.
The new test will be varied from year to year to make it less predictable.
KCC has said it is looking for better social mobility, allowing more children from all walks of life to get into grammar schools.
The test will continue to be provided by GL Assessment, which has run the Kent Test for many years.
Multiple choice
Independent education adviser Peter Read said the changes would make tutoring less effective.
"The first paper will contain verbal and non verbal reasoning as has happened before but it will have elements of each and they will vary from year to year, so [will] be less predictable," he said.
Children will no longer be expected to take separate practice papers. Instead, practice exercises will be incorporated into the main papers.
There will be two main multiple choice tests, one assessing reasoning ability and one assessing pupils' attainment in literacy and numeracy.
All candidates will complete a writing task under test conditions, which happens currently. This will not be marked, but will be available to head teacher panels who can look at borderline cases at the request of the primary school.
The new writing task will be shorter than at present, so that all the assignments can be completed on one day.
Parents whose children expect to take the tests next year will be able to get more information in May.