Maidstone murder: Four charged over Italian's death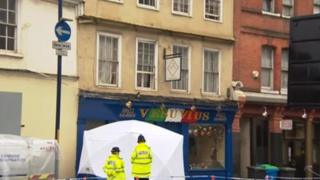 Four men have been charged with the murder of a 20-year-old Italian man.
Aleksandras Zuravliovas, 26, Tomas Gelezinis, 30, Saulius Tamoliunas, 23, and Linas Zidonis, 21, have been charged over the death of Joele Leotta in Maidstone, Kent.
The four Lithuanians have also been charged with grievous bodily harm in connection with another assault.
A 30-year-old man has also been arrested, becoming the 10th person to be detained over Sunday's attack.
Mr Leotta was found seriously injured at a flat in Lower Stone Street on Sunday night.
He was taken to King's College Hospital in London, where he died.
Seven men were arrested on suspicion of murder on Sunday night, while an eighth was arrested on Monday and the ninth on Tuesday. Two have been freed on bail.
Mr Leotta's family have been informed of his death and are travelling to Kent from their home in Italy.
Aleksandras Zuravliovas, of Beaumont Road, Maidstone, Tomas Gelezinis, of Lower Stone Street, Maidstone, Saulius Tamoliunas of Union Street, Maidstone and Linas Zidonis of no fixed abode, have been remanded in custody.
They are due to appear at Medway Magistrates' Court on Thursday.