Medway Maritime maternity unit needs 'urgent action'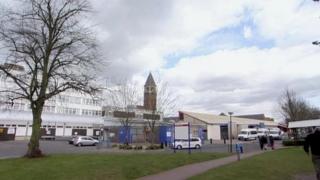 A Kent hospital has been told it must take "urgent action" to improve safety on a maternity unit.
The Medway NHS Foundation Trust, which runs Medway Maritime Hospital in Gillingham, has already been put in special measures.
The trust has been issued with three formal warnings after it failed to meet any of the six standards set by the Care Quality Commission (CQC).
The hospital trust said: "The safety of women in our care is paramount."
The CQC inspectors found the hospital had too few midwives to properly care for mothers and babies.
'Dirty utility room'
One woman whose waters had broken was told she could not be induced due to the lack of midwives, the report said.
There was an "almost constant demand for extra midwives to staff the delivery suite", a lack of blood pressure monitoring equipment for women who had undergone Caesarean sections, and problems with emergency equipment.
The report said: "The records showed that emergency equipment was not checked appropriately."
Inspectors found "an open box on the floor of the dirty utility room which contained used intravenous bags of fluid with intravenous giving sets still attached".
The door was not locked and the room was accessible to anyone, including children visiting their mothers who had just given birth.
Inspectors found that a bereavement room for mothers who had lost their babies did not have any sound proofing and was not in an area away from the delivery rooms.
"This meant that women and their partners would be able to hear the cries of other newborn babies, heightening their sense of loss," the report said.
Over 5,000 births
Adrian Hughes, from the CQC, said: "While patients and relatives we spoke to said that the care they received was good, we have serious concerns about the care and treatment that women have been receiving in maternity and midwifery services at Medway Maritime Hospital."
Professor Hasib Ahmed, clinical director for women's services at the trust, said: "Thousands of mothers choose to give birth at Medway Maritime Hospital and our specialist staff safely deliver over 5,000 babies every year.
"We are making positive progress with our midwifery recruitment, appraisal and mandatory training.
"We are also reminding staff of our local governance processes and systems which ensure that we continuously improve and enhance our maternity services to build on the excellent patient feedback we receive."