Hartlake Disaster: New memorial to killed hop pickers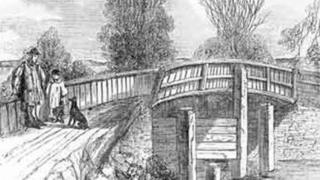 A new plaque with the names of 30 hop pickers who died in Kent 160 years ago has been unveiled.
The farm workers, many of them Gypsies, were killed when their wagon fell from the rotting Hartlake Bridge into the River Medway near Hadlow in 1853.
The tragedy, in which 16 members of one family died, became known as the Hartlake Disaster.
An inquest jury said the "defective state of the wooden bridge" was to blame for the deaths.
Witnesses at the inquest said the screams could be heard as far away as East Peckham, the Kentish and South Eastern Advertiser reported.
In its 25 October 1853 edition, the newspaper described how there had been heavy rain for several days before the accident and on some roads the water was several feet deep.
A Hadlow farmer, Mr Cox, had employed the hop pickers and he provided a wagon to take them back to their living quarters to keep them from getting wet on the journey.
As the wagon passed over the bridge the horses shied, the wagon slipped and the wheels broke through the wooden boards on the side of the bridge.
The reporter wrote: "We found groups of the bereaved friends and relatives standing about in mute despair - others with animated gesticulations were describing the terrible catastrophe - some with long poles were probing the eddies and backwaters of the river for those that were lost."
Among the dead was a two-year-old girl, whose first name remains unknown because her parents died with her.
The inquest was held on 22 October at the Bell Inn in Golden Green.
According to the newspaper, the inquest jury returned a verdict of accidental death saying: "The accident arose entirely from the defective state of the road and the wooden bridge, and their dangerous construction, which ought before have been remedied."
The victims were buried in one grave at St Mary's Church, Hadlow, where a memorial stone was erected in December 1853.
Anne Hughes, from the Romany and Traveller Family History Society, said: "The memorial is in the corner of the churchyard.
"As it's becoming extremely difficult to read the names we decided to put a plaque next to it so people could read the names."
The dedication of the new plaque was part of an open day organised by the Romany and Traveller Family History Society.