Canterbury masked figure identified as 15-year-old boy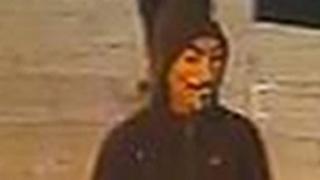 A 15-year-old boy has been confirmed as the person seen loitering in a horror mask in Canterbury.
Police said the boy had voluntarily came forward with his father, and has been confirmed as the figure seen on CCTV between 9 and 12 October.
He has been eliminated from the investigation into a separate incident, where a woman reported being grabbed by a masked man.
The force is appealing for witnesses to that incident, on 11 October.
The suspect was described as white, 5ft 11in tall, skinny, and wearing a black hooded top, dark jeans and a white 'V for Vendetta' mask.
A 22-year-old man was arrested on Monday as part of the inquiry and has been bailed.