Criticised Canterbury store defends 'legal high' trade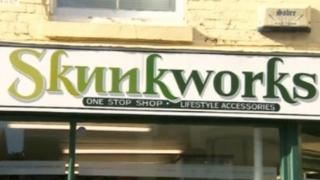 The owners of a shop that sells legal highs have defended their firm after a 17-year-old suffered a near-fatal reaction to a product they sold.
Matt Ford had to be treated in hospital after he smoked incense called Exodus Damnation, from Skunkworks in Canterbury.
In a letter to Conservative MP Julian Brazier, a Skunkworks spokesman said it boasted "extremely high moral codes".
Mr Brazier wrote to the home secretary calling for the store to be shut down.
'Strict policies'
In its letter, UK Skunkworks said: "The paraphernalia that we sell is not for drug use, we sell a wide range of popular products that are received very well by an adult market.
"The online industry of products we sell is extensive, however up until now the regulation of the products has been impossible.
"Our stores operate a number of strict policies and are enforced by a large team.
"These policies ensure that young people under the age of 18 can not enter our stores whatsoever."
It reiterates that it took disciplinary action after Matt, a student at Canterbury College, managed to buy Exodus Damnation from one of its stores.
The letter ends: "Calling for UK Skunkworks to be shut down is a pitiful attempt at dealing with the issues we face.
"I think you again fail to understand that we trade legally and take our business very seriously. If you wish to meet with us I think you will find us most accommodating and open minded."
'Take action'
In his letter to Theresa May, Mr Brazier, who represents Canterbury and Whitstable, called for Skunkworks and "its fellow shops and its websites" to be banned.
He said Skunkworks' get-out clause over the substances for sale at its shop was they were "not for human consumption", but its advice was to "help you relax" by burning the herbs in the home.
Legal highs mimic the effects of illegal drugs, but are not banned under the Misuse of Drugs Act.
Home Office minister and MP for Lewes in East Sussex, Norman Baker said: "We do take action within weeks to ban particular substances.
"I have asked officials to look at this particular one in the light of the incident which you've drawn my attention to, and I expect a swift reply on it."