Two questioned over Canterbury masked figure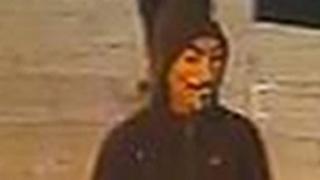 Two people have been questioned by police after reports that a person wearing a horror mask was causing alarm among female students in Canterbury.
Kent Police received four reports of a man loitering in a mask and one woman reported being grabbed by a man.
A 15-year-old boy, who came forward voluntarily with his father, has been spoken to by officers. A 22-year-old man arrested on Monday has been bailed.
Police said officers were trying to find who grabbed the student on Friday.
Someone described as wearing a "Saw" mask or a "V for Vendetta" mask, was seen around the Canterbury Christchurch University site, police said.