Metal thefts in Kent 'more than halved'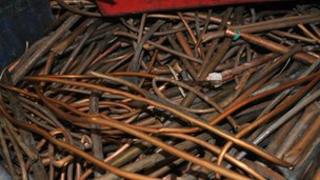 The number of reported metal thefts in Kent has more than halved in the first eight months of the year compared to the same period in 2012, police said.
Between January and August, 640 incidents of metal theft were reported to Kent Police. There were 1,412 in the same period in 2012.
In June 2012, a voluntary scheme was introduced to encourage metal dealers to ask for photo identity from sellers.
Police said outlawing cash payments for scrap metal had proved successful.
In 2011, there were 2,994 reported metal thefts. This number fell to 1,865 in 2012.
Kent Police was one of several forces which worked with British Transport Police, the Home Office and the metal recycling industry to encourage metal dealers to ask for photo ID from all people looking to sell scrap metal.
Of the 51 dealers approached by Kent Police, 39 signed up to the scheme.
The Scrap Metal Dealers Act 2013 has made it even harder for criminals to buy and sell stolen scrap metal, Kent Police said.
All scrap dealers and motor salvage operators in England and Wales must now apply for a licence from their local authority and keep records on who they buy from.
The act also extends a ban on cash payments to mobile collectors.
Insp Wilshaw said: "Thieves are finding it more and more difficult to operate and the new legislation will make it easier for our officers to track down anyone trying to sell stolen scrap metal."