KCC 'conflict of interest' over gas drilling plan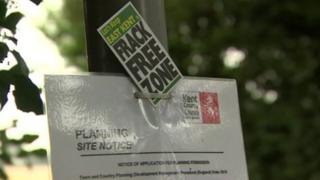 Anti-fracking campaigners have called for decisions on drilling for methane gas in Kent to be taken out of the hands of Kent County Council (KCC).
Kent Green Party said it had found that KCC holds £153m of shares in eight companies actively or wholly involved in extracting shale oil and gas.
"It exposes a conflict of interest," said chairman Stuart Jeffery.
KCC said it invested a small part of its pension fund in oil companies because they offered the best returns.
One energy company, Coastal Oil and Gas Ltd, has applied to KCC to drill for methane gas at old coalfields in Shepherdswell, Guston and Tilmanstone.
'Sell shares'
Opposition groups are concerned the drilling could lead to hydraulic fracturing, or fracking, in the future.
KCC has already granted the company permission to conduct exploratory gas drilling at nearby Woodnesborough.
The Green Party said it had discovered KCC had holdings in companies involved in fracking via a Freedom of Information request.
The fracking activities are outside the UK, in countries including the US and China.
The BBC understands that none of the companies in which KCC invests has made any applications for exploration in Kent.
"Fracking has no place in an ecologically sustainable world," said Mr Jeffery.
"We are calling for the decision making on fracking applications to be taken out of the hands of Kent County Council.
"They need to either sell those shares or hand the decision-making over to local people."
KCC deputy leader John Simmonds said: "We invest a small part of our pension fund in oil companies because they offer the best possible returns, which in turn results in less of a burden on the taxpayer.
"KCC has a pension fund of around £3bn.
"We imagine that every council up and down the country invests part of its pension fund in oil.
"It is absolutely the normal and sensible thing to do."