Manston Airport sold to Stagecoach founder for £1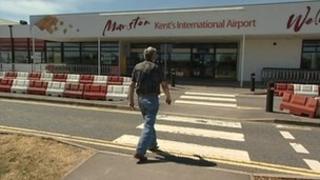 A Kent airport is to be sold for £1, owners Infratil have announced.
Manston Airport is being bought by Ann Gloag who co-founded the Stagecoach Group.
New Zealand company Infratil announced in March last year its intention to sell its two UK airports, Glasgow Prestwick and Manston, near Ramsgate.
Roger Gale, Conservative MP for Thanet North, said: "We now have a company taking over the airport that recognises its potential."
In a statement, Infratil said the airport was being sold for a "cash consideration of £1, plus an adjustment for working capital variances and cash injected by Infratil".
This is expected to be about £350,000, Infratil said.
Ms Gloag said: "I am delighted to have purchased Manston Airport from Infratil as I believe there is real potential for growth that has not been fully captured."
London connection
A fast rail connection between London and Manston is "absolutely vital", Mr Gale said.
"I have said for 25 years now that the airport will never really succeed until we have a one-hour link from London to Manston. That is achievable and on track," he said.
Plans for a railway station and improved road access to the east Kent airport have already been drawn up.
The proposals, part of the Manston Green housing development, would see about 800 homes built and a parkway station on land east of the airport.
In July, Manston Airport revealed its 40-year vision as part of its submission to the government commission looking at airport expansion in the South East.
Between 2015 and 2025, Manston said it could be handling five million passengers a year and 400,000 tonnes of freight.
It also proposed becoming a principal "diversion" airport for Gatwick and Heathrow while new capacity is being built.
Mr Gale said: "I think this [the sale] is very good news for those employed at Manston."