Canterbury students warned over masked man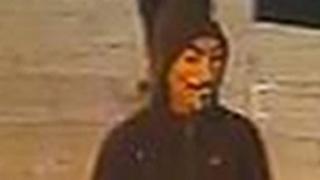 Women are being given safety advice after reports of a man wearing a horror mask who has caused alarm among female students in Canterbury.
Kent Police received four reports last week of a man loitering in a mask. One woman was grabbed by a man as she was walking home from the student union.
Insp Gordon Etheridge said officers were working closely with Canterbury Christchurch University.
Police are raising awareness of the incidents and advising students.
Women have reported seeing a masked man in St Martin's Hill and the Spring Lane to Christchurch area.