Alcohol advice nurses for Kent A&E patients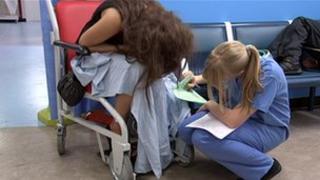 Specialist nurses are to work in a Kent hospital to give advice on the effects of drinking too much alcohol.
All patients attending A&E at the Queen Elizabeth the Queen Mother (QEQM) hospital in Margate will be asked about their drinking habits.
Those who say they drink three or more units per day will be offered advice, Kent County Council said.
About 23% of Kent's population over the age of 16 is classed as at risk of drinking too much.
The specialist nurses are part of a three-year-strategy being put in place by the council to tackle alcohol-related issues.
The council has been working with Kent Police to tackle crime and disorder, and with Trading Standards to combat underage and illegal alcohol sales.
Meradin Peachey, the authority's director of public health, said: "We are going to start putting four nurses and alcohol workers in the QEQM in Margate.
"We are going to train all staff and they will screen every single patient coming into A&E and they will identify if somebody is moderately drinking above the recommended levels.
"The specialist nurses will then give them what we call 'intervention and brief advice'."
She said that many people, especially wine drinkers, were not aware of the number of units they were consuming.
'Very effective'
Ms Peachey said: "It has been shown in the research with intervention and brief advice for every eight times you do it one will change their behaviour.
"It's very effective."
The council said 23.1% of those aged over 16 in Kent are estimated to be classified as drinking above safe levels, compared to 22.3% in England as a whole.
The results from the North West Public Health Observatory survey in 2012 suggested that more than 272,000 people in Kent are at risk.
Alcohol Concern has welcomed the plan saying the same people with alcohol problems "come into hospitals time and time again".
Emily Robinson, from the charity, said: "What the liaison nurse can do is to work with those people and stop them coming.
"If you solve the alcohol problem you stop the reason they're coming into hospital all the time."