Eight bidders in running to take over K College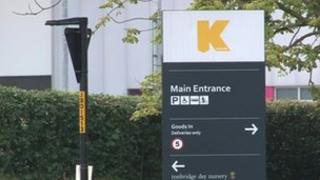 Eight organisations have been shortlisted to take over a troubled Kent college facing £16m of debt.
It was announced earlier this year that K College, which was formed when West Kent and South Kent colleges merged in 2010, was to be broken up.
Four colleges in Kent - Canterbury, East Kent, Hadlow and Mid Kent - are among the bidders who must now submit more detailed business plans.
About 15,000 people study at K College's campuses in five towns.
They are located in Tonbridge, Tunbridge Wells, Ashford, Folkestone and Dover.
It employs more than 1,100 staff.
'Business as usual'
The organisations in the running to take over the college were shortlisted from 30 organisations, including colleges and private firms, who sent the Skills Funding Agency a total of 87 expressions of interest.
A ninth organisation has since pulled out of the process.
K College is likely to be split into two or three parts.
Principal Phil Frier said it was still "business as usual" for the college with students being recruited for the September 2014 intake.
"Our emphasis during this year will be on continuity and the drive to stabilise the college and to improve the quality of our provision," he said.
"It is clear that whatever the nature of the organisation that comes in, they will want to see that we are not only managing the finances, but also that we have a plan to improve our student success rates."
He said the focus was to "improve and get the college into a much more positive position".
"We are developing a two-year-plan for 2013-15 to ensure that we are ready for the new era, and that any further changes for the college are considered in the context of the need for continuity and stability for students, as well as staff."