Gravesham council told to plan for 1,000 more homes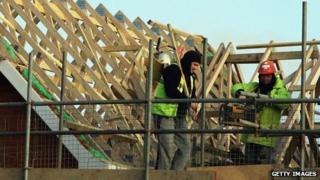 A Kent council has been forced to revise its plan for new homes after failing to take into account international migration into the area.
Gravesham Borough Council submitted a plan for 4,600 homes in May before the 2011 census information was available.
The Planning Inspectorate said the plan was not "sound" and it should be revised by at least 1,000 extra homes.
Countryside charity CPRE Protect Kent said councils should make more use of empty homes.
John Burden, leader of Gravesham Borough Council, said: "The information we are now getting is from the latest census. We based the plan on the previous census numbers."
'Good data'
According to Oxford University's Migration Observatory, the number of international migrants in Gravesham has doubled from about 7,000 in 2001 to about 14,000 in 2011.
Mr Burden said: "The inspectorate is reflecting government policy to build more and to build on greenbelt land.
"We've looked at all the brownfield sites, the easy and cheap greenfield sites and releasing greenbelt. That's the problem we've got."
The Planning Inspectorate said it would not comment specifically on Gravesham's plans.
Mark Southgate, from the inspectorate, said: "The crucial thing about this is it needs to be 'sound', based on the evidence submitted and the evidence put forward by other parties.
"The issues which quite often come up are is enough housing being supplied given government priorities, what is it doing around protection of the environment? It's those sort of issues the examiner will be looking at. "
'Real economic hit'
Christine Drury, from CPRE Protect Kent, said: "The green fields are extraordinarily important for the people of Gravesham.
"We have supported Gravesham Borough Council in the plans they have put forward. They [the Planning Inspectorate] are bound to find the plan 'sound' because it was based on good data when it was put together.
"New builds are always only a very small percentage of homes. By looking creatively at the existing housing stock you can release a lot of stock to create the homes that people want."
The National Housing Federation said the council needed to look at the types of homes available to suit the budgets of those needing them.
Warren Finney, from federation, said: "If we don't have houses for local people they will go elsewhere and that means there's a real economic hit and there won't be the people to do the local jobs.
"Gravesham is doing a good job and is working with the inspectorate to make sure it meets local needs."