Youth PCC recruitment of Paris Brown 'robust and transparent'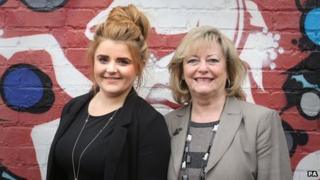 An independent review into the way Kent's first youth police and crime commissioner was recruited has concluded that the process was "robust, transparent and well run".
Paris Brown was appointed in April but quit over comments she made on Twitter before she was given the role.
Kent's police and crime commissioner (PCC) Ann Barnes has welcomed the findings of the review carried out by the University of Central Lancashire.
A new youth PCC is due to be recruited.
Miss Brown was recruited when she was 16 to represent young people in the county.
However, Kent Police received more than 50 complaints from members of the public about remarks she made online before her appointment, which could have been considered racist and homophobic.
'Important role'
Ms Barnes said: "This report clearly sets out that the recruitment process used was rigorous and fully complied with the guidelines used across great swathes of the policing and wider public services world.
"For me, the report conclusions can be summed up as saying that my office didn't ask for social networking vetting to be done, and the force didn't advise that it should be done.
"A classic case of something falling between two stools - I take responsibility for this. Lessons have been learnt and it's now time to move on and recruit for this important role."
Recruitment for the new youth commissioner will begin in October.
The successful candidate is expected to receive £15,000 for the year, part-funded from Ms Barnes' £85,000 salary.