Some Kent children's centres facing axe 'will stay open'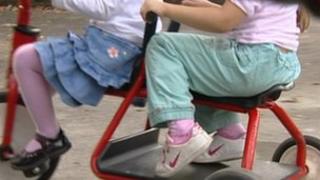 Some of the 23 Sure Start children's centres in Kent which were facing closure because of cuts will be kept open, the county council has said.
It has received more than 5,000 responses as part of its consultation process into the plans.
Parents and supporters have been holding a demonstration outside County Hall in Maidstone in protest.
Councillor Jenny Whittle said: "We will keep some of them open, but we need to be sassier about running them."
'Decisions being taken'
She said: "We cannot afford to have a full-time administrator in each of the children's centres.
"What we need is a hub in each district and based in one or two of the centres, who book the sessions which are delivered into community venues and village halls."
Ms Whittle, who is in charge of Specialist Children's Services, added that she had visited all the centres and listened "very carefully" to families and staff.
"Now is the time to sit down and really start making decisions about which ones we'll keep open and which ones will have to close."
She said the decisions would be made public early in December.
Kent County Council has 97 children's centres in total, many in rural or semi-rural areas.