Kent auction house sells James Bond Corgi cars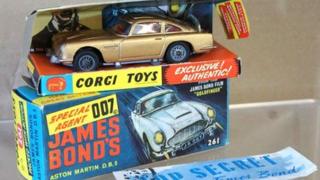 Six James Bond toy cars designed by Corgi have been sold at auction in Kent for about £7,000.
They should have been sold in the 1960s after the release of the Bond film Goldfinger, but a salesman kept them instead of distributing them to shops.
Online auction house C&T Auctions, in Rochester, said the cars sparked a wave of international interest.
An unnamed British buyer bid £5,500 for the cars but will pay about £7,000 including fees.
'Secret instruction packs'
The toys were expected to fetch between £2,500 and £3,000.
Matthew Tredwen, from the auction house, said there was interest from the US, France, Germany, Italy, New Zealand and South Africa.
He said: "The toy itself is not overly unusual because there was a million of them made.
"What makes this so fascinating is that it's still wrapped in the original wrapping, as it would have been sent to the toy shop for the retailer to then open it up and display it."
According to the auction house catalogue, the models of Bond's Aston Martin DB5 were taken from the film, Goldfinger.
The unopened trade pack contained six models all with sealed secret instruction packs.
A notice on the pack says in five different languages: "Mr Retailer, the instructions are packed in the compartment in the base of every inner display stand, please make sure that every young purchaser realises this."