Canterbury Cathedral to form first girls' choir in over 900 years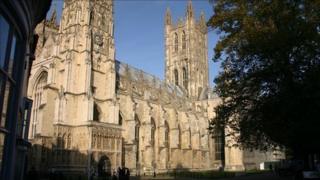 Canterbury Cathedral is to form its first girls' choir after almost a millennium of male-only choristry.
About 20 girls aged 12 to 16 from local secondary schools will form the Canterbury Cathedral Girls' Voluntary Choir following auditions in November.
The choir will initially provide cover at services when the cathedral's boy choristers take their usual breaks twice every school term.
Cathedral records show its choirs have been male-only for at least 900 years.
'Further dimension'
A spokeswoman said the girls would continue a choral tradition dating back to "the times of St Augustine".
The saint founded the cathedral after he was sent as a missionary by Pope Gregory the Great to Kent in AD597.
The Dean of Canterbury, the Very Rev Dr Robert Willis, said the girls would "provide a further dimension to the cathedral's worship".
"They will be an exciting addition to the cathedral's long history of musical achievement," he said.
The new choir will start rehearsing in December, the spokeswoman said.
The cathedral's male choir is made up of 25 choristers, aged between eight and 13, from Canterbury's St Edmund's School and 12 lay clerks, professional singers who work locally.
The choir sing at services on six days a week and regularly make recordings and concert appearances.