Rebecca Ben-Nejma pregnancy death: Family receives damages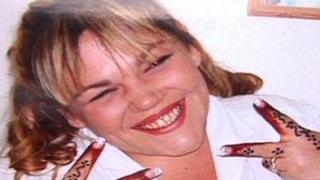 The family of a 28-year-old woman who died from an ectopic pregnancy after being turned away twice from Maidstone Hospital will receive £400,000 damages.
A compensation deal agreed in July between Maidstone and Tunbridge Wells NHS and the family of Rebecca Ben-Nejma has been approved in the High Court.
The mother-of-two from Maidstone collapsed in front of her husband and daughter in 2010 and died.
The Kent NHS trust has apologised and admitted liability.
The settlement against the trust, approved by Judge Higgins, includes £251,897 to be apportioned between Mrs Ben-Nejma's children, Charlotte, 15 and Bailey, aged four.
Simon Cridland, counsel for the family, told the High Court Mrs Ben-Nejma went to the hospital twice but was not admitted.
After she collapsed, paramedics tried to resuscitate her but were unsuccessful.
'Given painkillers'
Harsha Shah, from the NHS trust, repeated apologies to the family and said it was hoped the compensation would go some way to giving them comfort, although the trust appreciated nothing could make up for their loss.
The NHS admitted liability at an early stage, the High Court was told.
The trust had agreed in July that it would pay an undisclosed six-figure sum.
Mrs Ben-Nejma had gone to the hospital's A&E late on a Friday afternoon with abdominal pains, her family said this summer.
They said a doctor told them he thought she had an ectopic pregnancy - where the fertilised egg develops outside the womb instead of inside - but said there was no-one to do the scan and she should return on Monday.
The family said Mrs Ben-Nejma also went to hospital on Saturday after experiencing more pain, but was sent home with painkillers after a registrar diagnosed gastro-enteritis. She died on the Sunday.