Kent and Medway transport could get 'Oyster-style card'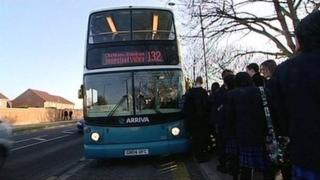 Bus and rail passengers in Kent and Medway could pay for journeys using a smartcard similar to London's Oyster card, it has been suggested.
A report to the county council proposes developing a Kent Travel Smartcard.
The document claims the technology would make travelling by public transport easier and more attractive.
The pay-as-you-go Oyster card, which was introduced in 2003, allows passengers to use different modes of transport in the capital.
The report to Kent County Council said adopting the smartcard format would provide better intelligence on journeys, "enabling more sophisticated targeting of services and marketing".
The environment, highways and waste cabinet committee is due to consider the plans on Thursday.