Kent NSL patient transport service criticised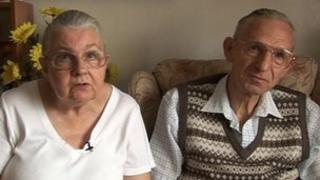 A hospital governor has called for non-emergency patient transport in Kent and Medway to be retendered because patients are still being left stranded.
NSL Care Services took over from South East Coast Ambulance Service on 1 July and blamed early delays on "transitional challenges".
Councillor Michael Lyons said it was still experiencing problems.
NSL said it was improving and complaints represented a fraction of the 62,000 journeys it carried out.
Mr Lyons, a governor of East Kent Hospitals NHS Trust, said the county council's health scrutiny committee would consider the patient transport contract at its meeting on 11 October.
'On the cheap'
He said: "It has gone far too far - you don't need two or three months to get everything sorted out.
"They are doing it on the cheap. It needs to be retendered very quickly."
Malcolm Allcorn, a cancer patient, said he missed a check-up at the Queen Victoria Hospital in East Grinstead on Thursday because NSL failed to turn up.
His wife Helen rang NSL several times to ask what was happening but, despite being told a taxi was on its way, no transport arrived.
The couple missed the appointment, which had to be re-booked for 17 October.
Mrs Allcorn said: "It is very poor - I think they should take [the contract] away from them and hopefully get somebody who can do the job properly."
'Working hard'
Another patient, Jill Ketley, said she was discharged from Darent Valley hospital in Dartford following an operation but waited six hours for an ambulance.
NSL accepted its performance had not always been up to the standard expected but said it was working to improve.
Managing Director Alastair Cooper said: "Since we started in Kent on 1 July, we've undertaken over 62,000 journeys.
"Thankfully, the complaints we receive are a fraction of that figure, with 53 in July, 52 in August, and down significantly to 37 in September.
"We would like Mrs Kettley and Mr Allcorn to know that we're working hard to bring the service up to the same standards we have achieved elsewhere."
NHS West Kent Clinical Commissioning Group, which manages the patient transport service contract, said it was not proposing to remove NSL.
Chief Officer Ian Ayres said: "We are working with NSL to improve the service.
"NSL is a professional provider who successfully provides these services in other parts of the country. We need to work with NSL to ensure the local service in Kent meets the same high standards."