Seized elephant tusk stolen from Wingham Wildlife Park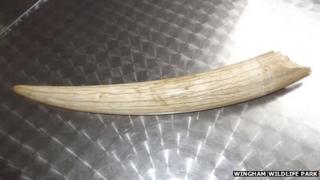 An elephant tusk which had been seized as it was brought into the UK has been stolen from a wildlife park.
The tusk, which is owned by the UK Border Force, was taken from a display at Wingham Wildlife Park.
Two men stole the ivory at about 14:00 BST on Sunday, a spokesman from the park near Canterbury said.
The park said the tusk had been part of a display designed to teach children about why elephants were being killed in the wild for their ivory.
The 55cm (22in) tusk had previously been seized as it entered the UK, and was kept by the UK Border Force before being loaned to the wildlife park in 2011.
There has been a rise in the killing of elephants and rhinos in parts of Africa in recent years, mostly to feed demand for horns and tusks in Asia.
Jackie Binskin, one of the owners of the wildlife park, said: "Having ivory in a location where it can be touched securely is not going to be an option for us any more.
"It seems people will always find a way to abuse the way we are trying to teach children about why elephants are dying in the wild for such items."