Kent council's breastfeeding claims criticised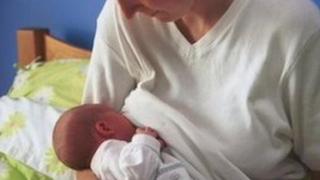 A parenting expert has criticised officials in Kent for claiming that babies will be healthier if they are breastfed.
The claim was made in a Kent County Council consultation document for a new support service for mothers.
The rate of breastfeeding in the county is currently below the national average.
The director of public health for Kent said the consultation was was not about telling women what to do.
The council's public health department has announced it will tender for a Kent Community Infant Feeding Service, starting in April next year.
The consultation document says: "Breastfed babies have fewer chest infections, serious tummy upsets and infections, ear infections, and feeding difficulties.
"There are fewer cases of cot death in breastfed babies and higher intelligence rates in children who have been breastfed.
'Relentless listing'
"Breastfeeding also reduces the risk of obesity, eczema, asthma and wheezing. A recent report also indicates that breastfed babies are less likely to be admitted to hospital for 10 different illnesses in the first year of life.
"Mothers who breastfeed are less likely to suffer from breast cancer."
But Dr Ellie Lee, from the School of Social Policy at the University of Kent, says the claims are questionable and should not be stated as fact.
"What you get is this pretty relentless listing," she said.
"Breastfed babies have fewer serious tummy upsets, infections, ear infections, feeding difficulties, they don't get cot death, it's higher intelligence rates, it's now obesity, asthma, eczema, wheezing,
"It's just this kind of bombardment of alleged benefits and it's very bamboozling."
But Meradin Peachey, the Kent director of public health, said: "The idea of investing in community breastfeeding is to support women in breastfeeding - those who want to breastfeed.
"We are also looking at how we can give a bit more education to young people and women ante-natally to dispel some of the myths around the difficulties of breastfeeding and the opportunities of breastfeeding in public.
"This whole thing is about supporting women, it's not about telling women what to do."