Kent NHS trusts 'failed cancer patient Debbie Westwick'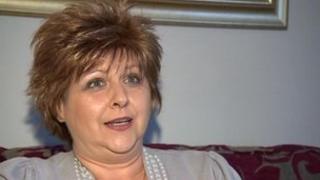 A woman with terminal cancer suffered failings in care and treatment delivered by two NHS trusts, the Health Service Ombudsman (HSO) has found.
A report also found maladministration by both trusts in how they dealt with Debbie Westwick's complaints.
Ms Westwick complained she suffered incorrect and delayed treatment from East Kent Hospitals NHS and Maidstone and Tunbridge Wells NHS.
The two Kent trusts apologised and said they would act on recommendations.
Ms Westwick, who was found to have breast cancer in 2006, was treated by two consultants working for the two trusts.
'Significant injustice'
The report found there had been failings in treatment plans, failings in the operation of the multidisciplinary team, poor attendance by the consultants at meetings, failure to resolve differences in opinion between the specialists and failure to scrutinise consultants' treatment plans.
Delayed and inappropriate treatment had led to "significant injustice" to Ms Westwick, the report by deputy director of health investigations Martin Pike said.
But while lawyers had suggested Ms Westwick's poor prognosis was a result of her incorrect treatment, Mr Pike said he could not say that had Ms Westwick been treated by different doctors the outcome would have been different.
He recommended both trusts should apologise to Ms Westwick and prepare action plans to address identified failings.
East Kent Hospitals NHS said it had made significant changes to its breast cancer service since 2006, and could assure patients full discussions of each case now took place between two surgeons and oncologists and their decisions were fully documented and discussed with the patient.
Maidstone and Tunbridge Wells NHS Trust said that while the ombudsman had identified shortfalls in the service, there had been developments in its oncology service since the time of Miss Westwick's complaint.