Lord Sugar loses Apprentice tribunal legal costs bid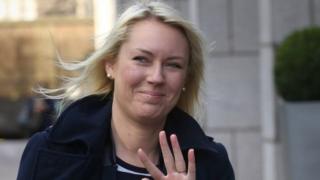 Lord Sugar's bid to recover costs from the winner of TV's The Apprentice after she lost a constructive dismissal claim against him has failed.
An East London Tribunal Service panel ruled Stella English, from Kent, should not pay any of the £50,000 legal fees.
The initial tribunal said Ms English's case "should never have been brought" - a statement reiterated by Lord Sugar's lawyers in his bid to recover costs.
The panel rejected the bid and said Ms English truly believed she had a case.
Henry Hendron, lawyer for the mother of two, said his client was "over the moon", and the tribunal had stated she did not bring the original claim against Lord Sugar's company motivated by malice or bad intentions.
He said: "Ms English is now keen to put this saga behind her."
During the proceedings, Ms English, who has been unemployed since July, said she had about £200 in her bank account.
She said that despite owning three properties, she had been forced to apply for housing benefit and is also considering applying for jobseekers allowance.
She told the panel: "I do not know how I am going to feed my kids, never mind the mortgages."
In her witness statement, she said the entire episode had affected her family financially and emotionally, had "a devastating impact" on her career prospects, and the stress had contributed to the breakdown of her marriage, leaving her unemployed and a single parent.
'Claim culture'
Ms English lost her constructive dismissal claim against Lord Sugar in April.
The 34-year-old, who earned £100,000 a year, had claimed she had no real role at Lord Sugar's IT firm, Viglen, but Lord Sugar said he had no case to answer.
Following the unanimous ruling in his favour, he tweeted: "A victory for the law against the claim culture."
At the time, in a written judgment, Judge John Warren said: "This was a claim which should never have been brought. There was no assurance or suggestion that the winner would receive direct mentoring from Lord Sugar."
The judge found that Ms English, of Whitstable, was given a "real job" at Viglen, with "enormous scope for advancement and learning".
The 2010 Apprentice winner resigned from the company in May 2011 and then felt pressurised into taking up a new position at Lord Sugar's internet set-top box company YouView, Ms English had told the hearing.
Lord Sugar said he was trying to help her out by offering her a new position because she had complained of being "desperate for money".