Woman tells of vicious assault by boyfriend in Rochester street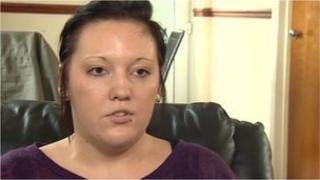 A woman who was repeatedly punched by her boyfriend after a night out said she was convinced she was going to die.
Franklin White, 44, from Strood, was jailed for six years at Maidstone Crown Court for inflicting grievous bodily harm with intent.
He attacked, Litisha Henry, 23, in a Rochester street after accusing her of seeing someone else.
Miss Henry said she was initially fearful of telling police before being convinced it was safe to do so.
"I don't remember how many times he punched me, I just remember being repeatedly punched," she said.
"I fell to the ground twice. When I was on the ground one time he dragged me by my hair because I physically couldn't get up. I was in pain all over.
"I just thought he was doing all he could to hurt me and I thought he was going to kill me."
During sentencing on Friday, White was also issued with a restraining order and was made the subject of an extended licence period of four years.
Miss Henry said she now felt only hatred towards White.
"If you speak out the police will help you. Don't think they won't because they do," she said.
Kent Police and Crime Commissioner, Ann Barnes, said it can take months for cases to come to court.
And she has called for domestic violence cases to be fast-tracked through the criminal justice system.
Det Ch Insp Andy Pritchard, from Kent Police, said there would "always be delays" in the court process.
"We manage that process as best we can," he said. "We assign a specialist worker for people going through prosecutions for domestic violence to support them and ensure they're safe."